Tuesday, May 27, 2014
Sacrifice Honored in Stone
In a couple of weeks, a new monument will appear in American Fork's Robinson Park.
I was recently invited to write a few words for possible use on a monument to be placed in American Fork's Robinnson Park. It will honor Utah County Deputy Sheriff Sergeant Cory Wride, who grew up in American Fork and was killed in January in the line of duty. I didn't know Sgt. Wride, and I don't know his family, but I'm honored to have my words selected for the monument honoring him. (Others designed the monument.) At yesterday's Memorial Day service at the American Fork Tabernacle, a portion of the monument was unveiled.
I was told it was important to remember the boy, not just to honor the hero he became. And the family felt the theme of forgiveness was essential; I find that almost breathtaking, under the circumstances. Danny Crivello suggested a couple of good tweaks, and, in the end, my contribution to the monument reads:
Boys play loudly at courage, conquering imaginary enemies in glorious battle. They do not know that, when they are men and foes are real, their courage will likely be quiet and their glory too often found in ultimate sacrifice, williing but unsought. In the shadow of such sacrifice, it is for us, beyond our weeping, to remember the boy, honor the man, and forgive the foe.
It's not every day one sees his own words carved in stone, but, yeah, I know that's not the important thing here.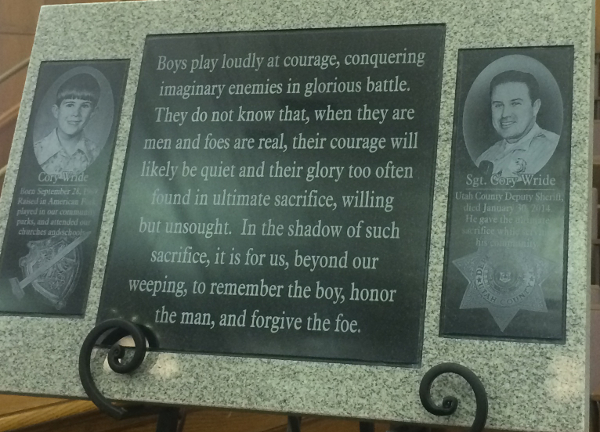 Those who can, do -- and the rest of us remain behind to tell and to hear the story.
Normal Version