David Rodeback's Blog
Local Politics and Culture,
National Politics,
Life Among the Mormons,
and Other Stuff
LocalCommentary on Twitter
May 17, 2013
"We Can't Be Late! We're Dele-Gates!"
(Ten points for any reader who correctly identifies the quotation in the title.) I'm off to the state Republican convention tomorrow. Here are some notes about issues that will arise there.
I'll spend most of tomorrow attending the Utah State Republican Organizing Convention in Sandy. I'm a state delegate from American Fork's 9th Precinct.
The off-year organizing conventions aren't as interesting to the public as the nominating conventions in election years, where we nominate candidates, but they're important. We'll select a new state party chair and some other officers, then turn our attention to a number of proposed resolutions and proposed amendments to party bylaws. Some of the more consequential proposed changes are to the caucus/convention system itself. There are also resolutions about immigration, Medicaid and ObamaCare, and Common Core.
If you're a registered Republican in my American Fork precinct, it's not to late to contact me to discuss any of these. I'd be interested to hear your views. (If you want to study the proposals, they're here.) Meanwhile, here are some of my thoughts. I'm making no attempt here to be comprehensive.
Party Chair
Current party chair Thomas Wright is not running for reelection. I don't know all the inner workings of the party, but what I've seen of him, I've liked a lot. Three men are vying to replace him: Aaron Gabrielson of Heber City, Marco Diaz of Sandy, and James Evans of Salt Lake City. We delegates are hearing a lot lately about how much money they've raised for the party in their counties, how committed they are to an inclusive party, how few Democrats have won in their counties, etc., etc.
I've had at least six robocalls asking me which one of these I support. The most intelligent poll also asked whether that support was strong or whether I was just leaning in a candidate's direction. That poll and a couple of others allowed me another option: undecided. The other polls didn't, which I thought was silly. I'd love to know which polls came from which candidates, because originating a smart or poorly-constructed poll would tell me something about a candidate for party chair.
That said, none of the polls was equipped to measure where I really am this week. I haven't yet picked a candidate, but one of them is in serious jeopardy. Aaron Gabrielson's fliers and e-mails highlight this claim: "All the skills and all the experience. None of the strings." But he may be tied up with FreedomWorks, and that's a string so big it's almost a rope. On that basis alone, I'd vote for someone else. (See Paul Rolly's columns in the Salt Lake Tribune here and here.)
FreedomWorks is a lavishly funded interest group that is so cynical that it might almost be at home in the Obama Adminstration's spin machine. Its commitment to truth is casual at best. In fact, as I recall their flood of lies about and distortions of Senator Orrin Hatch's Senate record in last year's campaign, the adjective "casual" seems too charitable by half. (For details, check out this blog post from last year.)
Immigration
I've discussed immigration here at the blog in the past, and my general views haven't changed. (See my four-part series here.) The politicial and economic terrain has eroded a bit, though. For example, illegal immigration has decreased as the economy has struggled under the current regime and in the last two Bush years. But there are still a lot of conservatives calling anything short of mass deportation "amnesty," no matter what the word really means, and a lot of Democrats who view the illegals as undocumented voters.
Here are just three notes:
I'm still not sure how valid our current immigration laws are. The problem is desuetude. If you systematically and deliberately neglect to enforce a law, it ceases to have the full force of law, and it doesn't make much sense to call people who violate it criminals.
I favor the Utah Compact, and one of the Utah Legislature's many disappointments for me is that they cannot seem to man up and endorse it themselves.
I see the wisdom of Senator Mike Lee's preference that we address immigration piecemeal, rather than in one bloated, "comprehensive" reform that will become a grab-bag of horrors akin to the ObamaCare legislation.
Common Core
The data collection provisions of Common Core are a gross violation of privacy. We're seeing what the IRS can do when it decides to help one party defeat the other; Common Core could be much worse. In general, federal control of public education is even worse than state control. And I'm all for rigorous academic standards, but when those standards themselves are inadequate and ideologically driven, and they have become a vehicle for other serious abuses . . . Why would we drink poison and serve it to our children, when we already know it's poison?
The Caucus and Convention System
Opposition to Utah's method of nominating candidates through caucuses and conventions got a lot louder three years ago, when Senator Robert Bennett's career stalled in the state nominating convention. Some folks think a pure primary system would be fairer, whatever "fair" means. It's as if the establishment thought that Senator Bennett had a right to the nomination, and the party delegates denied him that right. (Curiously, two years later, Senator Orrin Hatch experienced much better results at the convention.)
I actually like the current system. I like how it starts at the neighborhood level, with neighbors running for election as delegates, to choose the party's candidates. I like how seriously the delegates take their responsibilities, studying the candidates and the issues more comprehensively and more intensely than the vast majority of voters in primary elections. I like how the delegates at convention filter out the least capable and more radical candidates on the first ballot or two in most cases, often leaving the two most credible candidates to face a primary -- if there are two. Frankly, I like how I can persuade my neighbors to elect me a delegate, which positions me to help determine which names appear on the ballot.
Some people think that too few voters participate in caucuses. Then again, they say the same thing about primary elections. Some say primaries would lead to more moderate and less radical candidates. I suspect they sometimes would, and sometimes wouldn't. Some say the system isn't democratic enough or representative enough -- but anyone who wants to participate can do so, provided they care enough to register with the party and attend the caucus.
In 2010 I supported Mike Lee for the Senator Bennett's seat, though not for the same reasons the Tea Party cited. I explained this to my precinct's caucus, and they voted to send me to the state convention to represent them. In 2012 I supported Senator Orrin Hatch. I explained this very clearly at my new precinct's caucus, where a majority felt the same. They sent me to the convention as a delegate.
Note that each neighborhood -- each precinct -- gets to decide its own preferences in a democratic way, in the process of choosing delegates. No one is disenfranchised, but you have to show up.
Let's look a little more at the Senate race in 2010. There were eight or nine candidates. Six of them were either lightweights or radicals or both. Despite state delegates' reputation for being further right than the party at large, all of these were eliminated on the first ballot. Three candidates remained: Senator Bennett, Mike Lee, and Tim Bridgewater. The other two were to the right of Bennett by most measures, but these were the three candidates nearest the mainstream. The next ballot eliminated Senator Bennett. The following ballot nearly eliminated Mike Lee, but Tim Bridgewater came in just below 60 percent of the vote, so there was a primary election a few months later, which Mike Lee won by a nose. He subsequently won the general election by a sizable margin.
If less than 60 percent of delegates support a candidate, there's a primary between the top two finishers at the convention. This tends to happen only when there are at least two credible candidates. The 60 percent threshold may change tomorrow at the convention. I'm not passionately committed to 60 percent, but I certainly wouldn't want it lower. If it were higher, perhaps the tendency to place the two best candidates before the voters in a primary would be enhanced.
Some of the people who want to replace the caucus/convention system are pretty smart. One of them is my friend Tiani Coleman, who chaired Salt Lake County's Republican Party for a while. You can read her objections here and here. I agree with some of what she says, but the fact remains that, so far, the current system has served my interests well. I've used it to help my preferred candidates win.
You may also enjoy this interesting report from Fox News from last year's Senate race. I like the last paragraph:
"We start with our neighbors, and our views come up from the neighborhood and are carried to the convention," said Doug Smith, 59, a Hatch supporter from Bountiful. "If you want to have your voice heard, this is the system for it."
There are even those who think that we should move to a pure primary and let voters who are not registered as Republicans vote in it. It doesn't make sense to me to allow people who don't care enough to join the party to choose the candidates on which the party will expend its funds and labor. Moreover, no one is disenfranchised by closed primaries unless party membership is also closed, which it most certainly is not.
It would almost seem out of character for me (at least lately) to blog again before July or August, but if anything blogworthy happens tomorrow, I'll be here.
February 9, 2013
Two Wrongs Make a Left
Is it wrong for someone to have more than another? Is it wrong to take from one who has more, to give to another who has less? Is there an alternative?
Let's step outside the class warfare rhetoric which dominates our politics right now, in which the so-called 99 percent are supposed to hate, envy, and confiscate the wealth of the so-called 1 percent. Let's set aside for the moment the widespread concern that the number of people receiving monthly goodies from the federal government is perilously close to the number of people being taxed to pay for those goodies. Let's be more abstract than that.
The First Wrong
Is it unjust or otherwise morally wrong that there should be people who are breathtakingly wealthy in the same society which includes many who are desperately poor? Liberals say it's wrong. The conservatives of liberals' stereotype and caricature say it's not wrong.
I, a conservative and a Republican, say: It's wrong.
I'd better explain.
I try to avoid injecting my Mormon (Latter-day Saint) religious beliefs into most discussions here at the blog, but I'm doing it this time to explain a point. I could use other texts than those I consider sacred, but in my value system scripture has greater authority than, say, Adam Smith's classic, The Wealth of Nations, or John Rawls' A Theory of Justice, a seminal work on social (or economic or distributive) justice or "justice as fairness."
The Old Testament abounds in expressions of duty to the poor and divine condemnation of those -- especially people in positions of power -- who abuse and exploit the poor. There's more of the same in the New Testament, plus at least one effort to transcend stark economic differences: the early Christians attempted to live with all things in common (Acts 2:44-45). As a Mormon, I embrace the Bible as scripture, but not the only scripture. There's the rather well known Book of Mormon, which isn't quite like the Broadway musical. There's the Doctrine and Covenants, a compilation of divine instruction given through modern prophets, principally Joseph Smith. There's another small book called the Pearl of Great Price, but that's a longer story. For the purposes of our discussion here, it's not necessary that you accept these books as scripture. It's okay with me if the notion of there being any genuinely holy scripture makes you a little queasy, or if you think my embracing more scripture than the Bible has me zooming down the highway to hell. All you need to do for our purposes here is understand that I accept their moral authority. With that, I turn to the Doctrine and Covenants.
In Section 78 I read that God wants his people to be equal in heavenly things, and, "If ye are not equal in earthly things ye cannot be equal in obtaining heavenly things" (78:5-7). In Section 84 a certain Church official is given the duty to travel about, "searching after the poor to administer to their wants by humbling the rich and the proud " (84:112, my emphasis).
In Section 104 we strike the mother lode. I'll modernize the language just a tad for clarity . . .
It is expedient that I, the Lord, should make every [person] accountable, as a steward over earthly blessings, which I have made and prepared for my creatures. [For the moment, let's ignore the possible implications of this for environmental policy.]

I, the Lord, stretched out the heavens, and built the earth, my very handiwork; and all things therein are mine.

And it is my purpose to provide for my [people], for all things are mine.

But it must needs be done in mine own way; and behold this is the way that I, the Lord, have decreed to provide for my [people], that the poor shall be exalted, in that the rich are made low. (104:13-16, my emphasis)
If this were the end of the discussion, I might be forgiven for wondering if God just endorsed the welfare state, which seeks "social justice" by, among other things, taxing the rich and redistributing the money to the poor. But let's read on.
For the earth is full, and there is enough and to spare; yea, I prepared all things, and have given unto the children of men to be agents unto themselves. (104:17)
I guess that phrase "enough and to spare" explains why one doesn't often meet a Mormon Malthusian, but look now at the last three words, "agents unto themselves." That's Mormon scripture-speak for "I'm letting them choose." We read on . . .
Therefore, if any man shall take of the abundance which I have made, and impart not his portion, according to the law of my gospel, unto the poor and the needy, he shall, with the wicked, lift up his eyes in hell, being in torment. (104:18)
Clearly, in this doctrine, we're free to choose whether or not to "impart our portion" to the poor and needy -- but, if we choose not to, there's hell to pay. Literally. But the judge and enforcer in that scenario are God, not earthly government.
I've mentioned writings considered scripture by Mormon Christians, non-Mormon Christians, and Jews. Let's embrace more than a billion Muslims, too, on this point. I've read that the prophet Muhammad preferred the company of the poor, and that he said God prefers it as well (Al-Tirmidhi, Hadith 1376). I've read in several places in the Koran itself of the sacred obligation to care for the poor and the condemnation one is under for failing to do so. The Koran actually describes a system for doing do; I've seen it called "paying the poor-rate."
I'm sure the Left would be more comfortable without God in this discussion, but more to the point, I'm quite comfortable agreeing with the Left that gross economic inequality is morally wrong.
I can almost hear conservatives squirming. Nevertheless, allow me to repeat: Gross economic inequality is morally wrong. I believe this, in part on the authority of scripture. Others may have their own reasons.
The Second Wrong
Beyond this, the Left and I diverge decisively. I insist that compulsory charity is not charity, and forced compassion is not compassion. We are to be very generous with our means, but we are to do so voluntarily, through our own independent acts and through voluntary institutions.
The Left's response is to grant government so much power and expand it to such a size that it not only has the mechanisms to collect and redistribute wealth on a nationwide scale, but also the hubris to decide what fairness is, and how rich is too rich. The price in freedom is enormous. And that, I maintain, is wrong -- the Second Wrong. Hence my title.
Let's review for a moment. The Left and I agree that great economic inequality is morally wrong. But I see that wrong as an opportunity for voluntary generosity and compassion. The Left sees it as justification for a second, perhaps even greater wrong: an enormous government apparatus which partially enslaves part of its people in order to provide unearned benefits -- so-called economic, distributive, or social justice -- for another part of its people.
On this subject the book I quoted earlier says some other uncomfortable things. Here's one more example:
Thou shalt not be idle; for he that is idle shall not eat the bread nor wear the garments of the laborer. (Doctrine and Covenants 42:42)
By "idle" I presume we mean those who are able to care for themselves and their families, but choose not to. I note that this text makes no distinction between the idle poor and the idle rich. In any case the welfare state does not fare well in this formula.
Debate Samples and Benjamin Franklin
We'll give Benjamin Franklin the last word in a moment, but, first, here are some short related readings, more or less intelligent discussion of these matters from both sides.
Finally, Diana West quotes Benjamin Franklin's April 1768 letter to a magazine:
I fear the giving mankind a dependence on any thing for support, in age or sickness, besides industry and frugality during youth and health, tends to flatter our natural indolence, to encourage idleness and prodigality, and thereby to promote and increase poverty, the very evil it was intended to cure; thus multiplying beggars instead of diminishing them.
If Franklin is right, then the Second Wrong is doubly wrong: first, because it pays a grievously high price in freedom to remedy the First Wrong; and second, because it actually magnifies the First Wrong, promoting and increasing "the evil it was intended to cure."
After the Last Word, with Apologies to Mr. Franklin
It seems to me that there are two general types of thinking among the Leftists who embrace these two wrongs. There are those who genuinely care for the poor and needy and seek their welfare, who either do not see the great price in freedom or do not value it as highly as righting the First Wrong. I'll call these the humanitarians for a moment. There are also those who seek great power and find my Second Wrong a very effective means to it. I'll call these the power-hungry.
I do not believe that the power-hungry alone are sufficiently numerous to impose the Second Wrong on a free, democratic people. They can only do this when allied with the humanitarians. Philosophically, this is an unnatural alliance, because all of history testifies that the power-hungry destroy people, and that is contrary to the inclinations of the humanitarians.
When free people do not care effectively, even aggressively, for the poor and needy through their personal generosity and their private institutions, needs that are both real and great go unmet, perhaps even on a massive scale. This both pushes the humanitarians into an alliance with the power-hungry and blinds them to the tyranny -- the inhumanity -- which must result.
Therefore I conclude that free people, to remain free, must answer the First Wrong aggressively, persistently, generously, and very nearly comprehensively, or they will be unable in the long term to avoid the Second Wrong.
February 6, 2013
Guns in Schools
I did what they wanted that morning. I stopped to reflect on the violent deaths of twenty schoolchildren, their teachers, and others in an elementary school in Connecticut. I tried to imagine myself as a parent, a student, a teacher, and others in that scenario, and each of these efforts led to the same conclusion. Several weeks later, they still lead there.
"I'll be back in a few days." That's what I said. That was, let's see . . . Most of a hundred days ago. Ouch.
I just moved several mostly-written blog posts from my 2012 folder to my 2013 folder. Here's one of them, which I mostly wrote in late December, then amended slightly after several more weeks listening to public and private discussions.
I did what they asked me to that day. It was the day when the Mayans said the world would end -- unless they quit calendaring because ran out of funding for the project, or because the stoneworkers or calendar-makers union went on strike. Whatever. The end of the world is not the point.
I took a moment -- then quite a few more moments -- to ponder what happened in Connecticut one week before that morning, on December 14. A mentally ill man used one of his mother's legally owned but catastrophically unsecured firearms partially to depopulate an elementary school. Does that description sound cold? So did -- and still does -- a lot of the politically exploitative passion on the subject, notably including that of New York City's First Tyrant, Mayor Bloomberg, and his national counterpart, President Obama.
If I Were One of the Parents
In that morning's reflection, I first put myself in a parent's shoes, as best I could. I am a parent, and the youngest of my four offspring is in elementary school. If one of those innocent victims were my child . . .
I would think that the world hadn't waited to end until the Mayan calendar ran out.
I might be angry enough to want to kill the killer, except that he already took care of that himself with one of his mother's handguns.
I don't think I could resist indefinitely the thought that he is someone's child, too, and sorrow for his parents and family -- empathy or compassion, if you wish me to make it sound virtuous -- would mix with my own sorrow. Eventually, it might overwhelm my anger. At least I'd like to think so.
I would want to lash out against a society that allows . . . But I can't do that, because God allowed it, too, and I am disinclined to lash out against God for letting us choose between good and evil and face many of their consequences.
I would wish that there were no guns -- no guns anywhere, I mean, not just no guns in the hands of law-abiding citizens. But that is a foolish wish. It is impossible, and most efforts to pursue it merely serve the interests of tyrants and criminals, both foreign and domestic, in part by leaving good people defenseless in the first minutes of an attack.
I would wish that the killer's mother had protected her guns from her son by locking them in a safe to which he did not have access. But she'd have been so busy wishing that, too, if he hadn't killed her first, that I might not dwell on this.
I would wish that it were more difficult for a heavily armed murderer to get into a school. But locked doors don't stop someone who is willing to shoot his way in, and metal detectors wouldn't help, either, unless there were also armed personnel staffing them, who were vigilant and also willing and able to prevent him from shooting his way through the checkpoint.
I would wish that the teachers in that school had been carrying loaded handguns and trained to use them effectively and reasonably safely (safely, that is, for everyone but the shooter).
If I Were One of the Teachers
I have been and hope yet to be a teacher, albeit of older students, so this isn't too great a stretch for me. If I were a teacher in that school, I would wish that I had been armed, trained, licensed, allowed, encouraged, and in all other respects prepared to use extreme force to oppose extreme violence. I could not have saved everyone, perhaps not even myself, but maybe my shooting back would have kept the death toll under dozens.
I fired a handgun for the first time in my life a few weeks ago, a 40-caliber Glock semiautomatic belonging to someone at the American Fork Police Department. With a bit of excellent instruction from my son, then some able coaching from one of my favorite police lieutenants, I put my first six or eight shots in the 10-ring and rather tightly grouped, which is pretty good for a beginner. Prior to that morning at the Orem Police Department's shooting range, the only firearms I had ever discharged were bolt-action .22 rifles at summer camp, when I was a Boy Scout.
I'm not an expert. I'm a novice. One brief morning of well-coached target shooting doesn't equal good judgment and accurate shooting under fire; I am acutely conscious of this. But I would want adults there who had weapons and really knew how to use them -- someone trained to use them in a school attack -- between my child or my students and the killer. Realistically, who could that be, besides the teachers?
You don't bring staplers and dry-erase markers to a gunfight.
If I Were a Student
If I were a student in a classroom in that school, I would want some armed adults between me and my would-be murderer. If there were none -- as in this case -- I would want to know why not. I don't think any excuse you could give me would be good enough.
Under fire I might reach into my desk or my backpack for something, anything, with which to fight back. But I would do so in vain. I would know this in advance, because my possessing anything dangerous enough to be useful -- in some cases even my drawing a picture of such a thing -- would be enough to get me tossed out of school.
So I would die. Or maybe I would survive, perhaps physically wounded, certainly grievously wounded in other ways. Maybe I would live a long enough life thereafter that I would begin partially to comprehend the suicidal, homicidal mind of the shooter. Maybe I would eventually stop having the nightmares in which I watched and heard my classmates and teacher die all over again. Maybe I would finally get over, or at least get past, the survivor guilt.
But I could live ninety more years, I think, and never come to settled terms with the institutional madness which valued ideology or politics -- or the warm and fuzzy illusion that being defenseless is the best defense -- over the lives of my teacher, my peers, and myself. I think I would never be able to accept the sniveling partisans who rushed to propose legislation which, had it already been in effect, would not have prevented the attack. I probably could never conquer my disdain for the self-absorbed executive who was so busy pursing his own political victories that he didn't bother to require his administration to enforce the gun laws that were already on the books, before insisting that we make more such laws.
If I Were a Voter
If I were a voter, and I am, I would watch mostly in vain for some sliver of hope, some defender of wisdom among the nattering crowd -- the crowd, that is, of rational people who are more serious about other things than they are about defending young life, and of serious people who aren't rational enough to embrace a few simple facts.
Fact One: These things almost always happen in places where law-abiding people aren't allowed to be prepared to defend themselves or others. That is, they happen when a murderer brings a gun to a "gun-free zone."
Fact Two: A police officer in the next school where this happens might reduce the body count somewhat, if he happens to be in the right place at the right time. But one known, uniformed opponent, who can be in only one place at a time in a large school, is a relatively easy target to identify and avoid (or eliminate). If every second or third or fourth teacher is armed and trained -- the shooter won't know which ones -- the tactical situation will be a lot more favorable for the good guys, and there will be just a few funerals instead of dozens.
Fact Three: To stop a bad guy with a gun, you need a good guy (or gal) with a gun. Or several of them. That the top dog of the National Rifle Association said so doesn't make it false.
If I Were a Priest
If I were a priest, which I am or at least was, depending on your definition . . .
I would want to be found advocating compassion, charity, forgiveness, faith, and freedom, to be sure. But somewhere in my mind, nearer the front than the back, would be this recurring thought: What if the next place it happens is a church? What if it's my church?
Three Good Things to Read
There really are serious, rational people out there, trying against all odds to have a serious, rational discussion about all this. You have to work a little to find them. I strongly recommend you read and ponder the following. The first two are not directly about guns.
You don't have to agree with any of them. I don't agree entirely. But they are serious people trying to have a serious discussion, and that is both important and very refreshing.
November 19, 2012
The Election Outcome Surprised Me. The Aftermath Doesn't.
Bad economic news, leftist hanky-panky, and rockets falling on Israel were all waiting for after the election, no matter who won.
Before the election I had outlined a blog post in my head entitled, "What if Obama Wins?" But I didn't have time to finish it before, well, Obama won. It was not the result I wanted or expected, but it's the result we have. We knew that we -- whoever we think we are -- would be in for a fight. We just didn't know we'd lost quite this much ground.
No matter who won, it was perfectly reasonable to expect wave after wave of economic bad news and leftist hanky-panky, starting immediately.
Bad jobs numbers and such were inevitable. The system is manipulated to reduce the impact and visibility of bad news before the election. We've seen over and over lately the pattern of announcing economic indicators by giving the numbers and saying they're worse than anticipated, and later revising the numbers quietly and almost always downward. And we saw the unemployment rate dip slightly below 8.0 percent for the first time in years, just in time for the election -- but only because California conveniently failed to turn in its numbers on time. The fact that we will push through our current debt ceiling in December cannot have been invisible on November 5, but it only became safe to report for the Obama administration and its media allies on November 7, after the election -- which is also when leading Democrats began insisting that they had a mandate to raise taxes.
We already knew that the Obama administration had bullied and bribed defense contractors into violating federal law by delaying announcement of large-scale layoffs until after the election. There was some evidence that other employers were waiting for the outcome of the election before deciding whether they could stay in business at all, or at what size they could continue to operate. They were. We're also seeing a predictable round of sell-offs and the flight of capital abroad, in preparation for the many new taxes which hit us January 1, to say nothing of the new stuff they'll dream up next. Beyond this be dragons.
There are no surprises here. In different circumstances, we might expect a significant economic rebound after the election, no matter who won, as companies who have been sitting on lots of cash decide they can afford to spend some of it, because the election results tell them what the rules will be. Not knowing the rules is death to investment, you see. But any such effect will be muted in this case. They still don't know what the rules will be; tens of thousands of pages of ObamaCare regulations are yet unwritten. They can see that the effects will be mostly bad, but it's not entirely clear in what ways or to what degree they'll be bad.
I didn't foresee the demise of Hostess, but only because I wasn't watching. We'll see more of this: Union leaders destroying thousands of jobs and pensions at a time, instead of agreeing to relatively small cuts in wages and benefits to keep the doors open. Twinkies will probably survive -- there's a tired joke to be avoided here -- and so will HoHos, which were passed around at my office on Friday. But they will most likely be a foreign import, which means that Americans are losing jobs which someone elsewhere will gain. This is a union power play and has little to do with the union workers' welfare, but it is nothing new.
Had Mitt Romney won, the Left would be scrambling to grasp as much power and wreak as much destruction on its enemies as possible before Inauguration Day. With Obama's reelection they're feeling their oats. For now the effect is much the same, though the prospects over the next four years are grimmer.
Nor should we be surprised that, just after the election, the Obama administration signaled its enthusiasm for a very oppressive proposed United Nations small arms treaty and also locked up a massive piece of land in Utah with equally massive fossil fuel reserves. There will be more of this, even as most Americans understandably recoil from political news after the election and bury themselves in holiday festivities.
Then there's Israel. There was a strong sense before the election that Israel and its enemies were waiting for election results, so they would know whether the American leader would have a spine or not. Now they know, and Palestinian rockets are flying from Gaza as far as Jerusalem and Tel Aviv. The Israeli government has responded with air strikes and has said that ground troops are next, if the rockets keep flying. The mush-brained American administration, including the Nobel laureate at its head, is urging Israel not to escalate. That's equivalent to saying that it's perfectly okay with the White House if rockets keep falling on Israel.
So far, even the details are predictable. For example, Hamas locates a rocket battery between a mosque and a children's school, which is a win-win for them. Either it deters the Israelis from attacking, or the mosque and the school -- and preferably some worshippers and some children -- become collateral damage in an Israeli attack, thus further fueling the anti-Israel propaganda machine. Meanwhile, one simply must appreciate the entertainment value of some Palestinians faking grievous wounds -- as if the real casualties were not enough -- but then showing up, miraculously healed, in video footage of protests mere hours later.
By itself, in a military sense, this is small potatoes. But the implications here are very large. This is a test of Israeli and especially American resolve. If Iran isn't actually pushing the buttons here, either directly or through its surrogates in Egypt or even Syria, you have to know that Iran is watching carefully, because, one way or another, a much bigger conflict looms.
I'll be back in a few days with my thoughts on some questions numerous people have asked me since the election. These people are worried, upset, grasping for hope, and gravely concerned for the future of our liberty and the constitutional government a wise generation crafted to protect it. Their queries are serious, immediate, and personal, not just academic. I doubt that my answers are as good as their questions, but I'll do what I can.
In the meantime, you may be interested in a blog post the local newspaper asked me to write upon my return from Israel a couple of weeks ago. Their headline was, "An American Fork resident, Obama, Romney, and the Jews."
November 11, 2012
Veterans Day: A Visit to the Vietnam Memorial
I visited the Vietnam Veterans Memorial Wall again this summer and wrote down my thoughts.
It is July 1, 2012, and I am in Washington, DC. I flew in yesterday, on the heels of a great storm, which has ravaged trees all over the region and has left much of the area without electricity. I have come for a family wedding, two days hence. I stayed last night in the large and comfortable home of a prominent appellate attorney and his family, old friends of my new sister-in-law. They ran a small generator thro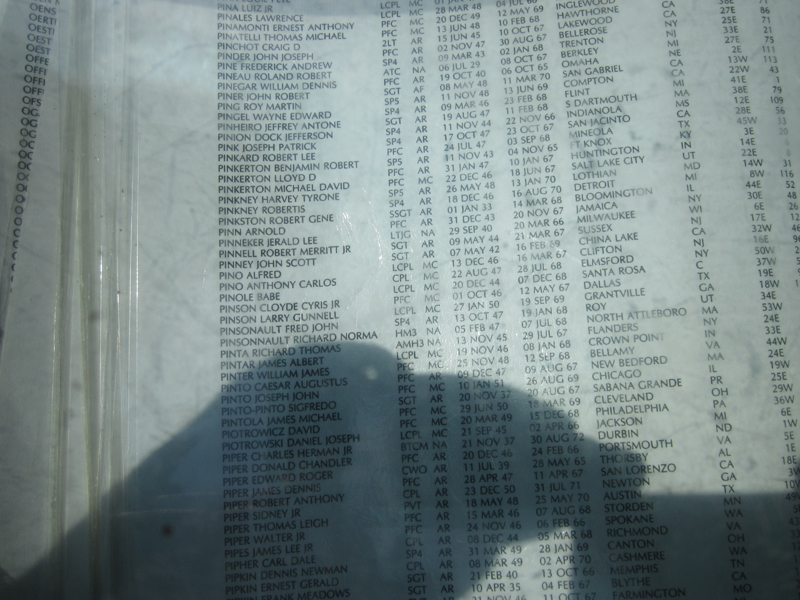 ugh the evening; it was enough to support a video party, run a fan or two, and recharge iPods and cell phones. It was not enough to run the air conditioning. I slept on the floor under an open third-floor window, and I was glad for both the floor and the window.
Now I'm on the Mall among the monuments. It is a hot, humid summer day. I am conducting my own guided, mostly-walking tour of the monuments, for one family member who hasn't seen them in decades and another who never has. We've just picnicked on the banks of the Potomac and passed some time in solemn reflection at the Lincoln Memorial. I insist that our next stop must be the nearby Vietnam Veterans Memorial Wall. I send the others ahead, telling them I will meet them on the other side, because I intend to linger.
I've been here before. It is one of the most powerful war memorials I have ever seen. This time, I'm looking for a particular name: John S. Pinney, of whom I have written before. He is not a relative; nor did I ever meet him. He was -- is -- the dear friend of a dear friend.
Two indexes of names are available in binders, under glass, mostly protected from the elements. The page with his name is missing from one binder, but I find him in the other. Panel 32W, line 46.
The brick walkway slopes downward along the polished black granite wall. The granite was chosen for its reflective qualities and imported from India when I was in high school. As the walkway slopes downward, the wall itself expands downward. Year by year, panel by panel, each year with more names than the last. Soon I am below the bustle of the Mall. The black panels filled with names pass to my left. I am not inclined to notice what, if anything, is to my right.
I am unhurried. The passage of time is marked only by people walking past, individually and in small groups, mostly silent but sometimes whispering. A ranger with another index quietly helps visitors find the names they seek.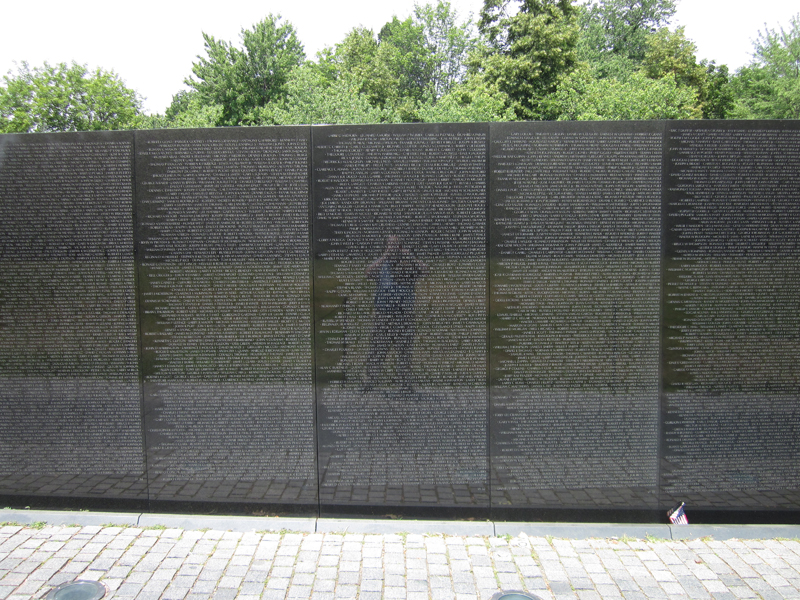 A slender, dark-haired woman about my age or a little younger stands a few feet back from the wall and sobs quietly. Is she a daughter or perhaps a younger sister? Does she simply not care who sees her, or is it for her as if no one and nothing else exists, except her, the name on the wall, and whatever she is remembering? I fancy it is the latter. I pass behind her, not wanting to intrude between her and the name on the wall, not wanting to distract her from whatever place and time fills her thoughts and prompts her tears.
There it is, Panel 32W. I look for the name but don't find it. Finally, I resort to counting the lines. That works. JOHN S PINNEY.
I stand there for a while, remembering what I have come to know of him secondhand. A fine soldier, a finer man. He died saving a comrade in Vietnam, and probably should have had a posthumous Silver Star, I am told.
Then I remember that I brought a camera. Try as I might, I cannot manage to photograph the wall straight on without my own reflection in it. At length I realize that this is fitting. After all these years, most of us, at least, have learned to see ourselves in those names, in that wall. To find a way to remove my own reflection might be to miss the point altogether.
Finally, I move slowly on. The names dwindle as I ascend back to the bustle of July 1 in Washington, DC. My thoughts turn to the gigantic crowds which will fill the Mall for the national celebration three days hence, while I fly home. Independence Day . . .
We are still independent. We are still relatively free -- at least in comparison to other nations, present and past. Yet we are not as free as we ought to be; we have chosen poorly, selfishly, lazily.
Then two trains of thought merge, and I remember one of those mostly-unsung verses of "The Star Spangled Banner":
O thus be it ever,
When free men shall stand
Between their loved homes
And the war's desolation.
I pause to wonder if there are enough free men and women left to stand between us and the siren songs of power-loving despots and tyrannical do-gooders. If there are enough, perhaps it will be a while yet before the number of those inclined to be free slips decisively below the number of those inclined to subsist on the labor of others. Maybe it's just me, but I think that humanity can only be fully human when free. Gratitude is good, too, especially when properly directed . . .
Blessed with victory and peace,
May the heaven-rescued land
Praise the Power that hath made
And preserved us a nation.
Eventually, we leave the Mall and drive to Mount Vernon in Virginia, and thence to our hosts' home in Maryland. Here and there, several traffic signals in a row are out, because the power is still off. Driving is a little more stressful than usual, perhaps, but surprisingly orderly. I'm not one of those libertarians who think traffic signals are an infringement on liberty, but it's worth noting that drivers have adjusted well to their temporary absence. Maybe the masses of Americans are not so vicious or moronic that our every action must be regulated.
Perhaps this small thing is another sign that the blood of our soldiers and the tears of their loved ones are not shed in vain.
Happy Veterans Day.

November 7, 2012
Election 2012: My Thoughts in the Light of Day
In the aftermath of an ominous election, I find my thoughts inclined toward, of all things, faith, hope, and charity.
I have taken inventory this morning, in the light of day, and I find myself inclined to report on faith, hope, and charity. I offer my apologies in advance to any reader for whom that trinity of virtues smacks too much of religion. When important but lesser things, such as politics among mortals, go badly, I prefer to turn to first principles.
Some of my friends will think I am overthinking things or making far too much of a single election, because I think far too little of the winner, or because I'm too partisan or apocalyptic or simply delusional. In truth, it's not just one election, and it's not just the guy who won it. But if the following doesn't speak to you, that's okay. Perhaps you can find or write something that does.
It Went Badly
Our latest mortal skirmish went badly indeed.
Mitt Romney turned out to be an excellent candidate, the best Republican nominee I have seen since Ronald Reagan. Romney was not exactly what many wanted him to be; nor was he as others portrayed him. He was himself, which is a virtue -- let's call it integrity -- we don't see every day in our candidates. He showed himself to be a good enough man and a good enough leader that I cannot think the failure was his. It was ours. Somewhat to my own surprise, I now want him to run again in 2016, if he can and will. (Sorry, Mrs. Romney. I've stopped thinking he might be good enough. Now I think we'll need him. Notably, I felt this way about Ronald Reagan, but not Bob Dole or John McCain.)
In this election about 52 percent of my fellow American voters turned a blind or indifferent eye to history, economics, the principles of the American founding, and a sliver of hope for fiscal sanity. They chose to prolong an essentially lawless and duplicitous regime, to turn the US Supreme Court sharply to the left, and to thumb their noses at the moral obligation to pay our own bills. They chose to entrust the future of freedom in America and the world to an apologizer and dilettante beloved of dictators and tyrants, to an opponent of many of our founding principles, to a man who is in his views (I say nothing of his actual birth) more of a European anti-colonialist than a freedom-loving American, and more of a social democrat than an American Democrat. As a nation, we chose to retain in power a Senate majority which is contemptuous of even its most basic duties, such as debating and passing a budget. We chose to build our only fortification in the only place available: the US House of Representatives. At least procedurally, though perhaps not morally, choosing all this is our right. God help us.
Speaking of God, Mitt Romney urged us last night to pray for President Obama, as well we should. I have been doing so for four years already -- even though my primary loyalty is to the Constitution and American founding principles, not directly to the current resident of the White House. Whoever this election's victor proved to be, we already knew that only God could make him man enough, leader enough, American enough (in the sense of founding principles), and resilient enough to lead us wisely and effectively back to a free and prosperous future. If I happen to believe that this will now require a much greater miracle than it would have, had the election gone the other way, yet the fundamental fact remains: Without the mercy and power of God, this nation could never have been founded, and it could not have endured and prospered this long. Without the mercy and power of God, it will not survive much longer under any leader -- and this has been true from the beginning.
Faith
My faith in God is entirely intact. I would like to believe that it cannot be shaken by the foolish choices of mere mortals; at least it has not been in this instance. Equally robust is my conviction that human freedom matters to God as much as anything -- and more than almost everything -- in the universe. This implies a divine reluctance to overrule our choices and many of their consequences for ourselves and others. My faith includes the conviction that God can and will derive all possible good from the messes we humans create. He alone can take our electoral blunder, like all other human folly, and use it somehow to advance the freedom and salvation of his billions of children around the world, and his hundreds of millions of children here in what the anthem still calls the "land of the free." My conviction that the eternal happiness and welfare of families and individual souls matter more to God than political parties and platforms is, if anything, reinforced by present events.
My faith is that the end is happy, glorious, and worth the battle -- and it is located elsewhere, outside this place and time. If this part of our path to it is more difficult than we hoped, should we be surprised, dispirited, or unwilling to press on?
Hope
While there is life, there is hope. But how much hope is there, really, for American freedom?
Quite a lot, I believe. Here are some of my reasons for this belief.
48 percent of American voters get it, or at least voted as if they get it.
We are still mostly in the blessed, historically rare condition of fighting for our freedom with words and votes instead of swords or bullets.
The Big Media Acronyms no longer attempt to conceal their utter partisanship. We no longer need to be tempted to believe in their objectivity or good will. Better the devil you know. And we still have talk radio and the Internet -- if we can keep them.
This nation emerged from more than three terms of FDR and managed to elect Ronald Reagan only a few terms later.
This nation survived a Civil War and emerged stronger and more free.
The birth of this nation came by the will of a minority of the people in the colonies, who loved freedom and sought the help of God.
The culture of a free people is threatened here, yes, but still stronger than in most nations of the world -- and culture matters even more than institutions.
There is quite a lot of hope.
Charity and Charity
We shall require more of two kinds of charity.
In the sense of love for one's fellow beings, charity will restrain us from lashing out destructively against opponents for their victories and abuses, and against our own people for their defeats. It will restrain us from demonizing our opponents, no matter how thoroughly we ourselves are demonized -- as we will be by some, if we defend our freedom as we must. Charity will school us not to make politics a condition of friendship, service, or good manners. It will overrule our inclination to pass judgment where judgment is not required. If we expect divine help in a struggle which requires it, we cannot surrender this charity. We must increase it.
Only charity can preserve civility in the struggle to come.
In the sense of selflessly caring for others' physical and other needs, the need for a dramatic increase in our charity is clear. By our cruel social policies, which induce and foster dependency, and by our unimaginably reckless monetary and fiscal policies, we have sown -- and now watered and fertilized -- the seeds of higher unemployment and greater poverty. Higher taxes will accompany them in one way or another. Government already cannot care for us, our families, and our neighbors to the level of present need; a further impoverished government can never meet the dramatically increased needs which lie before us. Hence the need for charity and compassion, which are individual, not institutional, virtues. We shall have to care for each other better, even as we send more of our means to government. We shall have to "smile at an old pair of shoes," as someone put it. In truth, the sacrifice will be much greater than this. It may require far more than scaling back the size of that new television we want for Christmas from, say, 60 to 32 inches.
Only charity can absorb the tsunami of unmet basic human needs which approaches. But "tsunami" is the wrong word; we need a metaphor that suggests wreaking havoc slowly and then lingering, not destroying quickly before disappearing back into the ocean.
Where will we find this greater charity? I propose to ask God for it and, while I await delivery, to act as if it already arrived.
Lincoln Time
There is no bad time to read Abraham Lincoln's brief Second Inaugural Address, but today may be a better time than most. By my lights, despite coming decades after the American founding, it is one of our most important founding documents and is among the finest and most significant literature our nation has ever produced. He gave the speech near the end of the Civil War. Not too long before that, he gave us the more famous Gettysburg Address.
By quoting both speeches here I do not wish to suggest that the partial, self-inflicted slavery which looms for us, if we fail, is akin to the horrors of full slavery as some in the nation then knew it. Yet the larger war between freedom and oppression is the same. First, from the later address:
It may seem strange that any men should dare to ask a just God's assistance in wringing their bread from the sweat of other men's faces, but let us judge not, that we be not judged.

With malice toward none, with charity for all, with firmness in the right as God gives us to see the right, let us strive on to finish the work we are in, to bind up the nation's wounds, to care for him who shall have borne the battle and for his widow and his orphan, to do all which may achieve and cherish a just and lasting peace among ourselves and with all nations.
The Gettysburg Address begins, "Fourscore and seven years ago our fathers brought forth on this continent a new nation, conceived in liberty, and dedicated to the proposition that all men are created equal." Now it's elevenscore and sixteen years ago; forgive me if I change a word or two to fit the times:
Now we are engaged in a great [moral and political struggle], testing whether that nation, or any nation so conceived and so dedicated, can long endure. . . . In a larger sense, we cannot dedicate, we cannot consecrate, we cannot hallow, this ground. The brave men, living and dead, who struggled here have consecrated it, far above our poor power to add or detract. . . . It is for us the living, rather, to be dedicated here to the unfinished work which they who fought here have thus far so nobly advanced. It is rather for us to be here dedicated to the great task remaining before us -- that from these honored dead we take increased devotion to that cause for which they gave the last full measure of devotion -- that we here highly resolve that these dead shall not have died in vain -- that this nation, under God, shall have a new birth of freedom and that government of the people, by the people, for the people, shall not perish from the earth. (italics added)
Faith. Hope. Charity.
Freedom. Honor. Sacrifice.
Courage . . . As much as part of me wants to wallow a while in discouragement, then throw up my hands, disengage, and bury myself even more deeply in the necessary task of supporting my family, I cannot bring myself to be such a coward. Furthermore, let's skip the hand-wringing and Monday-morning quarterbacking. Let someone else sift through the demographics and try to figure how to reach this or that slice of the voting population with better goodies than the other guys. And let's forsake forever the seductive blood sport of cannibalizing our own.
We have work to do. We have freedom to explain and promote. Few in the history of the world have ever been given higher work to do; no one has ever been granted higher principles to defend.
Freedom is our watchword, vigilance our stance. Faith, hope, and charity are our sure defense. Truth and persuasion are our tools. Let's get on with it.
And let's talk more than we have lately (which is my fault).